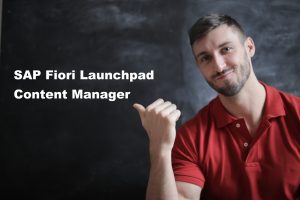 More and more companies are electing to use Fiori apps to call specific transactions in addition to the SAP GUI. This requires configuration of specific authorizations, however, which are composed of catalogs and groups. But how can you reduce the multitude of standard SAP Fiori catalogs and groups that are provided and adapt them to your own scenarios?
SAP Fiori Launchpad Content Manager to create and modify catalogs and groups
Technically speaking, apps are grouped in catalogs that are assigned to a business role. These catalogs authorize users to display and access the assigned apps. Before you start creating Fiori authorization roles, you need to decide whether or not you want to use the standard SAP catalogs and groups for a Fiori app. Since the standard SAP catalogs and groups often contain a large number of apps, our customers often decide to create their own reduced catalogs and groups tailored to the respective customer scenario. This prevents the assignment of unnecessary apps and thus avoidable risks.
SAP Fiori Launchpad Content Manager is often used for this, because it greatly simplifies the creation and modification of catalogs and groups. Think of it as a complement to Fiori Launchpad Designer, which lets you edit catalogs and groups in the SAP GUI.
SAP Fiori Launchpad Content Manager (FLPCM) is available in the standard system SAP S/4HANA Release 1909 and later, with a corresponding SAP NetWeaver/SAP_UI Version Release 1709 and later. You can use it to search all available content, make modifications, and create your own catalogs.
FLPCM can be accessed using the following two transactions:
/UI2/FLPCM_CUST FLP Content Manager: Client-Specific
/UI2/FLPCM_CUST FLP Content Manager: Cross-Client
Changes made using the cross-client transaction /UI2/FLPCM_CONF apply to all clients of the SAP system. Therefore, you should only use this transaction if absolutely necessary.
FLPCM contains an overview with the following tabs:
Catalogs
Tiles/Target Mappings
Roles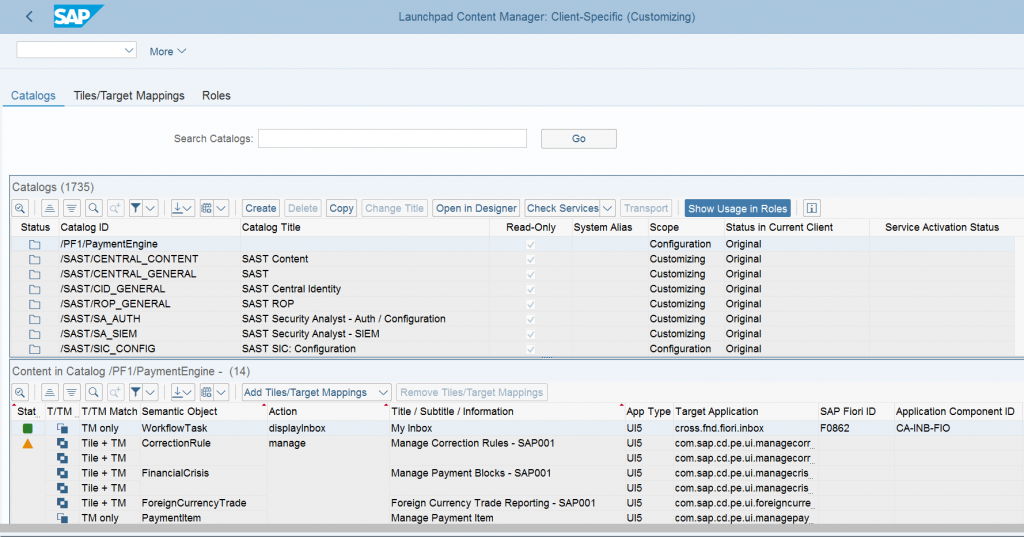 On the Catalogs tab, you can select a business catalog from the standard system and copy it to your own namespace or create your own catalog with any catalog ID. This tab page also contains a detailed list of all tiles and target mappings that are part of this catalog. As a result, you can see at a glance which catalogs and target mappings match your intention and whether a suitable target mapping already exists in the catalog. You also have the option of checking the service status of OData/ICF services and activating any missing services.
The Tiles/Target Mappings tab contains predefined tiles for selected standard SAP transactions that you can add to your own catalog. To enable this, the status bar shows the standard SAP catalogs in which the sought transactions already exist in the form of tiles with target mappings. When you select any catalog and enter the catalog name on the Catalogs tab, you see which apps, activities, and transactions the selected catalog contains. It is also possible to search for app names and Fiori IDs on the Tiles/Target Mappings tab, so you can select the appropriate tile to add to a custom catalog, including target mapping.
Note: In the SAP Fiori Reference Library, under Implementation Guide à Configuration, you will find important information such as business catalog names, business group mapping, and target mapping.

On the Roles tab, you see a list of all available standard SAP roles that contain the corresponding catalogs and apps.
Take advantage of the many benefits of SAP Fiori Launchpad Content Manager, too:
Central starting point for all kinds of enterprise apps
Simple search function for SAP Fiori apps
Improved identification and correction of problems/errors with tiles, target mappings, and combinations
Simple creation of catalogs
SAP Fiori gives users a modern UX that is convincing more and more companies to implement Fiori apps. Our consultants have already assisted with the creation and modification of help catalogs in many customer projects.
If you'd like support in creating and implementing a Fiori concept, we'll be happy to help you make your path to the world of Fiori even easier. Visit our SAST SOLUTIONS website or just get in touch.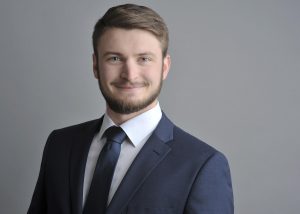 Paul Michaelis (SAP Authorizations Consultant, SAST SOLUTIONS)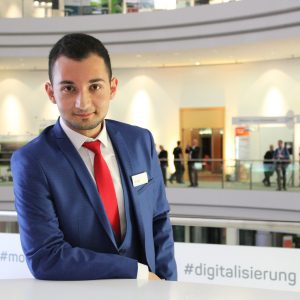 Ali-Riza Catak (SAP Authorizations Consultant, SAST SOLUTIONS)
More articles about SAP Fiori:
Configuring and assigning SAP authorizations in SAP Fiori apps
How to master the increasing complexity of SAP S/4HANA security